In 1889 and again in 1900, the voters of Crawford County voted down a proposal to build a new courthouse. Then, in 1902, a $75,000 bond issue passed. In 1903, bonds were sold and a contract was awarded to build the new courthouse. Realizing the original bond was not enough, they bonded an additional $40,000.
The old brick 30' x 40' courthouse was sold, on public auction, March 12, 1903, for $302. It was moved across the street where it remains today. It was raised six inches a day for five days and then placed on giant timbers and using giant pulleys, capstans and two horses it was rolled across the street.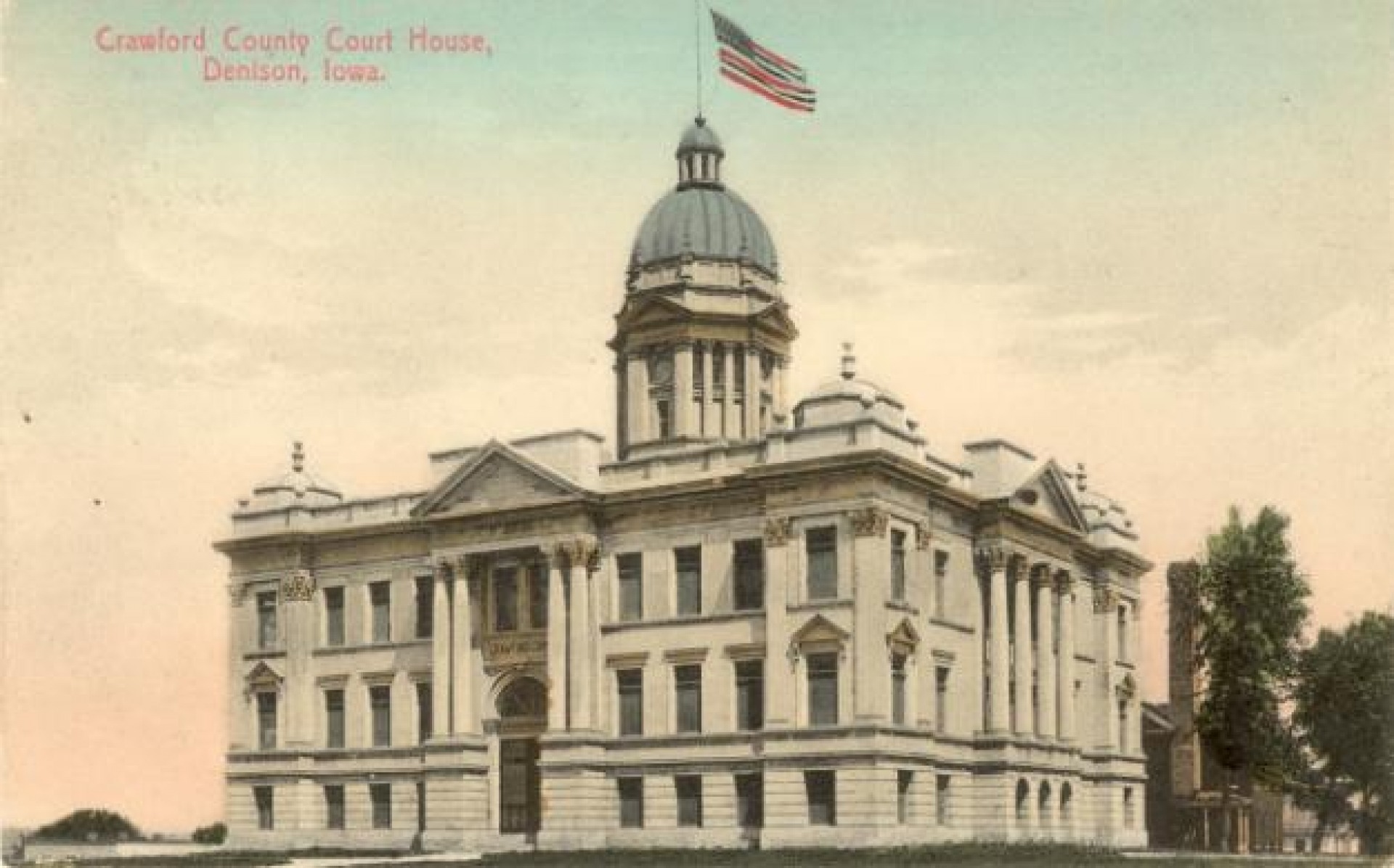 On November 10, 1903, the work on the new courthouse began. On July 30, 1904, the cornerstone was put in place.
View 1904 Newspaper Article: Corner Stone Laid
The courthouse is constructed of Port Wing sandstone on the first floor and Bedford Whitestone on the second and third floors. The Bedford stone was brought in from the quarries in pieces weighing between 7 or 8 tons. These large stones were loaded on a special truck wagon and eight horses were used to pull them up the hill to the courthouse site from the railroad depot. The beautiful oak woodwork and furniture in the courthouse were built by John Fastje, a local craftsman. The original dome on the courthouse was removed in 1945 by local contractor Randy Brandt. Despite protests from the residents of Crawford County, the dome had to be removed due to being too heavy for the roof and had caused water damage on the second and third floors of the courthouse.
When work was completed on this courthouse, the builder loaded his men and equipment and went to Seward, Nebraska. Using the same blueprints, he built an almost identical courthouse there.
In 1975, the Crawford County Law Enforcement Center was added to the courthouse. This replaced the original jail which had been built in 1884.