Courthouse
1202 Broadway
Suite 7
Denison, IA 51442
Hours
Monday to Friday
Drivers License: 8 a.m. to 4 p.m. 
Lic. Written Test: 8 a.m. to 3:30 p.m.
Driving Exams:
By appt. only
*
Motor Vehicle: 8 a.m. to 4:30 p.m.
Motor Vehicle Title Work: 8 a.m. to 4 p.m.
Property Tax: 8 a.m. - 4:30 p.m.
*You must pass your written test before we will schedule you for any type of drive exam.
Phone
Property Tax: (712) 263-2648 Treasurer@crawfordcounty.iowa.gov
Motor Vehicle: (712) 263-2178 dmv@crawfordcounty.iowa.gov
Driver License: (712) 263-3439 dl@crawfordcounty.iowa.gov
Fax: (712) 263-3131
DRIVER'S LICENSE IS BY APPOINTMENT ONLY - NO WALK-INS. PLEASE CALL 712-263-3439.
****DRIVER'S LICENSE AND IDENTIFICATION CARDS:****
NEW INFORMATION FOR CUSTOMERS WHO DO NOT RESIDE IN CRAWFORD COUNTY:
Effective July 1, 2023, customers who do not reside in Crawford County will be assessed a $10.00 convenience fee for renewal of a driver's license or non-operator's identification card unless they pay property taxes in Crawford County and provide proof of payment. This $10.00 convenience fee must be paid with cash. (Iowa Code 321M.9).
We now offer a secure dropbox at our east entrance for your convenience. This box is checked several times daily.
The Crawford County Treasurer provides property tax collection, issuance of vehicle titles and registrations, and driver's license issuance. You may also pay your property tax and vehicle tags online.
Our Mission
Our mission is to offer you, our valued citizens, friendly, courteous, and efficient service.
Contact Services
Our Team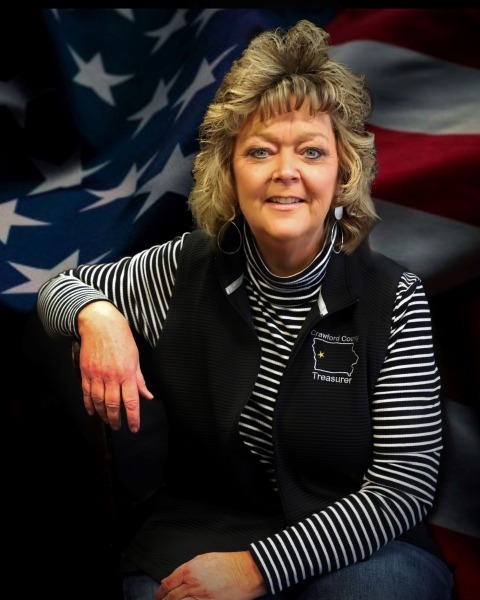 Sheri Neddermeyer
Treasurer
Ami Kesterson-Ladwig, Tax Department Chief Deputy
Kristin Clark, Motor Vehicle 2nd Deputy
Brenda Schramm, Motor Vehicle 2nd Deputy
Tammy Klinker, DL Supervisor
Lori Garrett, DL 2nd Deputy Drive Examiner